STRUCTURAL CALCULATION SUPPORT
The Master Builders Solutions Technical Department supports our customers with a structural design reporting service for each fiber reinforced concrete application. Currently, several codes and guidelines (DBV 1992; CNR 2006; RILEM TC 2003; CPH 2008; Model Code 2010) include fiber reinforced concrete (FRC) as a structural material; highlighted among them is the Model Code 2010. In these regulations and design guides, the contribution of fiber reinforced concrete to bending, shearing and punching is defined, based on the values of the residual tensile strength of concrete for CMOD=0.5 mm (fR1) and CMOD=2.5 mm (fR3).

CONCRETE CHARACTERIZATION (RESIDUAL VALUES)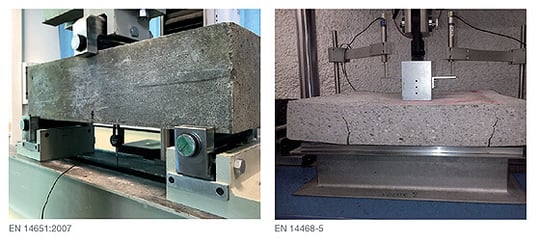 The most common test to characterize the post-cracking behavior of fiber reinforced concrete is the three-point test according to the EN 14651(2005) standard for prismatic beams with the dimension of 150mm × 150mm × 600mm. During the test, the applied load and crack mouth opening displacement (CMOD)/deflection of notched beam are recorded and shown in a load-CMOD-relationship curve.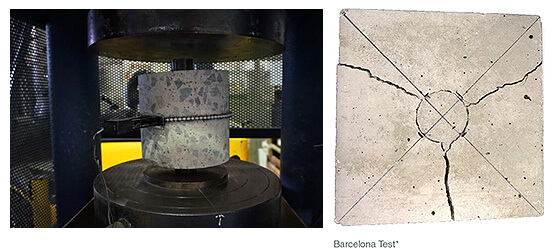 Barcelona Test
The Barcelona test is a modified double punching test to evaluate the residual tensile strength of fiber reinforced concrete. Studies demonstrate that the test may be applied indistinctively to cubic and cylindrical specimens.
TECHNICAL SPECIFICATION ASSISTANCE
The Master Builders Solutions brand brings all of Master Builders Solutions expertise to support engineering offices and architect studios, regarding fiber reinforced concrete design and product specifications.
Dosing equipment available to ensure the proper
fiber distribution in the concrete mix.
CONCRETE MIX DESIGN SUPPORT
The Master Builders Solutions brand brings all the expertise to support our customers in the concrete mix design, which may be adapted to integrate fibres without damaging rheology and casting process.